Passover Alerts
Passover Kashrus Alerts
April 3, 2013
Regarding chometz she'avar alav haPesach, please be aware that all ORB-certified, Jewish-owned establishments sold their chometz before Pesach. Therefore, it is acceptable to purchase from them immediately.
To the best of our knowledge, all Jewish-owned vendors and distributors that service ORB-supervised establishments sold their chometz before Pesach. This also applies to all Miami-area liquor distributors.
March 21, 2013
Please be vigilant when purchasing Passover products. Many labels look very similar to year-round labels. Also, when products bear multiple hechsherim, it is often difficult to ascertain which kosher supervisory agency certifies the product for Passover.
Prigat Strawberry Banana Juice (regular), Pineapple Juice (regular) and Grapefruit Juice (diet) are under Rabbanut supervision. We do not recommend these products. All other Prigat products will bear an OK-P and are recommended.
Some Agri-Star Shor Habor hot dogs without a kosher for Passover label have been found in local stores. These items should not be used.
The Star-K advises that Chasalat Alei Katif Romaine Lettuce from Israel has been found to contain thrips. This product shoud be washed and checked like any other lettuce.
Quinoa is kosher for Passover. It is not related to the chameishes minei dagan-five types of grain products, nor to millet or rice. Quinoa is a member of the "goose foot" family, which includes sugar beets and beet root. The Star-K tested quinoa to see if it would rise. The result was as Chazal termed, sirchon; the quinoa decayed - it did not rise. However, recent investigations have found that there is a possibility that quinoa grows in proximity to certain grains and processed in facilities that compromise quinoa kosher for Passover status. Therefore, quinoa should only be accepted with reliable kosher for Passover supervision.
FAQs:

Dole Raisins are acceptable without additional hechsher.
Dixie Crystal Light Brown Sugar is acceptable for Passover when bearing a "P".
Domino Brown Sugar with a "P" is acceptable for Passover.
Coconut OIl by Spectrum Extra Virgin Unrefined is acceptable for Passover.
Pumpkin seeds are NOT kitniyos
Extra Virgin Olive Oil does not require a hechsher
===========================begin Passover 2013 Alerts======================
April 19, 2012
Chometz Alert (updated):
Sweet Endings Bakery. The ORB has been unable to ascertain whether or not this company sold its chometz. Most of their product is sold fresh, but a small amount is frozen and can last 3-4 months. Any product with a date code of 04/15/12 or after will be free from concerns of chometz she'avar alav haPesach. (If there is any new information regarding this bakery's status, we will post it on our website.)
April 15, 2012
Please see our regular year-round Alerts page for additional non-Passover information.
Post-Passover Issues:
All Jewish-owned facilities under the supervision of the ORB sold their chometz. See note below regarding Sweet Endings Bakery.
Neither Publix nor Winn Dixie are Jewish-owned corporations. As such, there was no need to effect a chometz sale from either.
Liquor. There are some Jewish-owned liquor distributors who service Southeastern Florida. The ORB is investigating as to whether or not they sold their chometz. We will B"N post information on our website by Tuesday or Wednesday.
Sweet Endings Bakery. The ORB is investigating if this facility sold its chometz through an agency other than the ORB. The ORB will post updated information as soon as it is available.
April 9, 2012
Chometzdik International Glatt Meat Kishke Logs (1 pound) have been found packed with kosher l'Pesach kishke in the same case. Consumers are urged to check every package for appropriate labels.
The following Passover alert is from the Rabbi Mayer Kurcfeld of the Star-K on April 9, 2012.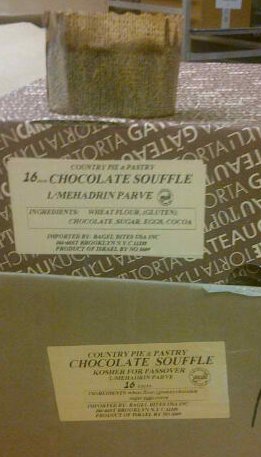 Country Pie and Pastry Chocolate Souffle distributed by Beigel Bites USA, Inc. under the certification of Chug Hasam Sofer has been seen at a Star-K Passover program with the following problem. The outer box says kosher for Passover and the ingredient list on the inner box is the year-round label listing wheat flour.
At this time we are not sure if this product is mislabeled or chometz. Because of the seriousness of cometz do not serve until clarification.
For more more information contact rabbikurcfeld@star-k.org.
April 5, 2012
Policy Change:
Cumin. Due to recent concerns by several reputable kashrus agencies worldwide that the process by which cumin is prepared may be chometzdik, the ORB is erring on the side of caution and is no longer accepting any cumin, even if it has hashgacha for Passover. If you have already used cumin in Passover cooking, please consult with your local Orthodox rabbi as to whether or not you would need to kasher your cookware.
Acceptable:
Publix Salads are kosher for Passover when bearing the ORB logo or the letters "ORB" in the date code. No additional Passover language is required.
March 28, 2012
Pre-Checked Vegetables. Pre-checked vegetables can be purchased kosher for Passover. Order from either Fresh Cuts at 954-917-7272 or from Royal Kosher Vegetables at 305-305-8095 or from Taylor Farms (Orlando) at 407-859-3373. Kitniyot products may be purchased from Fresh Cuts as well. (Those products will NOT say kosher for Passover.) These products are all certified kosher by the ORB.
Coffee (regular and decaffeinated), ground and whole beans, may be ordered from Golden Coffee Bean Roasters, 305-677-2966. All of their regular and decaf coffees are certified kosher for Passover by the ORB. Label will indicate "kosher for Passover."
March 21, 2012
PriGat Juice Drinks. The product is certified kosher during the year by the OK Labs. For Passover some drinks are certified by the OK ("PASSOVER OKP") and others by a Rabbanut ("PASSOVER RABBANUT"). The wording is ink jet printed on the face of the container. The ORB will accept for Passover ONLY those containers labeled "PASSOVER OKP."
Parchment Paper. There are basically two types of parchment paper, Quilon and silicone. All Quilon type paper requires a reliable hashgacha during the year while the silicone type does not. Both require special Pesach certification. All parchment paper under the certification of the Star-K is permissible for Pesach even without Passover certification. This is not to be confused with wax paper or freezer paper, which do not require any certification during the year or for Pesach. [cRc March 13, 2012]